An Earth Opera by Elizabeth Clark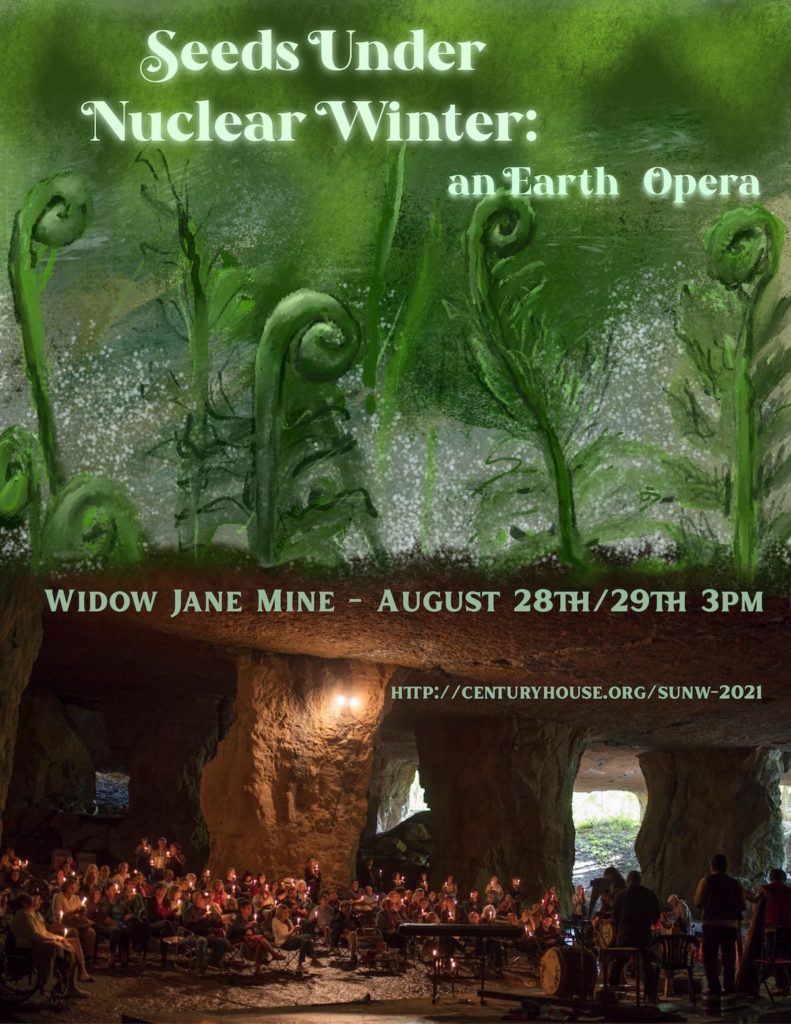 "Seeds Under Nuclear Winter: An Earth Opera" is a recreation of spiritual visions, dreams, and stories through world and sacred music, moving visual art, dance, storytelling, and light experiments, shared within an immersive and multi-sensory community experience.
The Earth Opera takes place in a post-apocalyptic atmosphere, and centers around rebirth, finding light and beauty in the darkest times, and our deep connection with all living things, our planet, and with each other. Orchestrated for harps, ethereal choral voices, South American/Andean instruments, Indonesian gamelan, chamber strings, droning harmoniums, dulcimer, bells, piano, and an occasional tuba, the 'Earth Opera' steps into otherworldly realms and unfolds upon a non-linear and timeless path, similar to the way we dream.
Excerpts and entire scenes from "Seeds Under Nuclear Winter: An Earth Opera" will be premiered by a diverse Hudson Valley community of world musicians, artists, dancers, actors, and choreographers in the Widow Jane Mine on August 28-29th, 2021 at 3pm. The show consists of about 90 minutes of continuous music, with no intermission.
An Artist-in-Residence at Byrdcliffe Artists Colony from 2018-2020, Elizabeth Clark's 'Earth Opera' was composed and developed over the course of 3 years within the quiet mountain sanctuary of Byrdcliffe's 100+ year old artist retreat, and was fully completed there in 2020 amidst the pandemic.
---
Mamalama:
Elizabeth Clark (harp, voice)
Henry Lowengard (dulcimer, bells)
Annie Roland (voice, shruti box)
Andes Manta:
Luis Lopez (quena, quenacho, panpipes, charango)
Bolivar Lopez (percussion, panpipes, moxeno)
Wilson Lopez (guitar, mandolin, panpipes, perussion)
Jorge Lopez (bass, panpipes)
Catskill Mountain Gamelan:
Henry Lowengard (panerus)
Dorcinda Knauth (peking)
Chris Andersen (peking)
Stuart Leigh (bonang)
Nava Tabak (jenglong)
With Musicians:
Peter Wetzler: (piano, accordion)
Chris Andersen: (euphone)
Cornelia Logan (cello)
Rusty Boris (electric upright bass)
Sharon Penz (cello)
Goni Ronan (tuba)
Antonia Weeks (piano, voice)
Sharon Penz (voice)
With Choreography by:
And appearances by:
Luis Mojica
Elwin Cuevas
Phil Levine
Noa Graham
Erika Kari McCarthy
Anne Arden McDonald
James Adelman
To become involved in supporting the "Earth Opera" as a foundational "Patron", please visit patreon.com/mamalamamusic
There are two shows to choose from: Saturday, August 28th, and Sunday, August 29th , both at 3pm.

The show consists of about 90 minutes of continuous music, with no intermission.