Saturday September 14, 2019, 3-5 pm
Pre- show activity begins 2 pm
"You haven't seen Macbeth until you've seen it presented by Dzieci… an eye-popping-ear-poking
confirmation that Shakespeare once again constructed something not easily degraded.
And you're not likely to see anything resembling it ever again."

David Finkle, Huffington Post
And MAKBET has never been seen in such an astonishing and darkly mysterious setting as The Widow Jane Mine in Rosendale.
On Saturday, September 14th at 3:00pm, this thrillingly unique performance will meet an equally thrilling and unique venue. Enter the splendor of The Widow Jane Mine, where a riotous clan from the "Old Country" will greet you outside with song, dance, and divination, then lead you through the shaft, between the gargantuan stone pillars, and around the subterranean pools, in a wild, whirlwind of witchcraft, omens, passion, and vaulting ambition.
For Dzieci Theatre's visceral take on Macbeth, actors spontaneously trade off parts from scene to scene, exploding the art of story telling, and creating a one- of-a-kind experience which audiences have said is, "Absolutely liberating!"
Employing haunting folksongs and chants from Eastern Europe, along with the poetry of Shakespeare's verse, MAKBET explores (and explodes) the very essence of theatre and storytelling.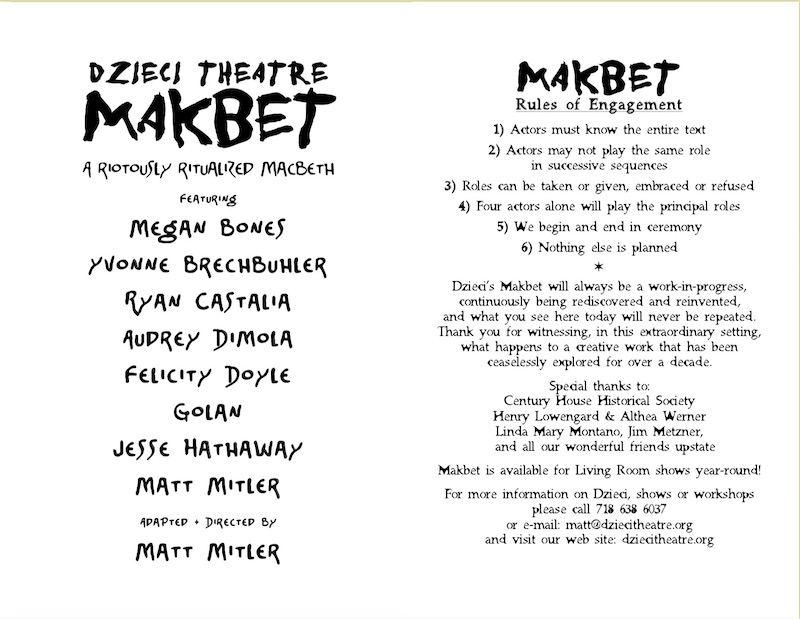 MAKBET: THE SIX RULES of ENGAGEMENT:
Actors must know the entire text.
Actors may not play the same role in successive sequences.
Actors are encouraged to play a Witch, Makbet, and Lady Makbet at least once per enactment.
Roles can be taken or given, embraced or refused.
We begin in ceremony and remain in ceremony til the end.
Nothing else is planned.
More about this production and Dzieci Theatre: http://dziecitheatre.org/the-work/makbet/
The most thrilling reinterpretation of Macbeth we've ever seen! If you're lucky enough to catch this show while there's still time, you should get what we mean when we say hats off—and on,
and off again, and on again—to Matt Mitler and his small but convincing cast!"

Andrew Andrews, Opplaud
"Theatre came from Dionysius, not Apollo, and Makbet is the first time I've ever seen true Dionysian theatre. Absolutely liberating!"

Russ Hudson, executive director of Enneagram Personality Types, Inc.
"Wonderful!" "Unexpected!" "A true experience." "Wowing, engulfing, just wow!""Spellbinding!" "Wow!" "Romantic!" "Amazing!!!" "The best!" "My God!!!" "Wow!" "Remarkable!"

Students from The International Schools Theatre Association
One of the most gut-punching productions of Macbeth I ever saw. A one-of-a-kind immersive show. The beauty ofDzieci's production is that it can satisfy the tastes of very diverse audiences… Makbet is not to be missed!

Asya Dinilova, OnStage Blog
Memory fails if I have seen a realization of Macbeth that so captures its sense of confinement and moral entrapment as Dzieci's does. There is something deadly serious about all of this, but also a certain wryness and good humor. This is not a Macbeth that leaves you thinking that human nature is irredeemable, but a cleansing ceremony, cathartic in the ancient sense,
that does the opposite, dramatic substance as an agent of purification."

John Osburn's Brilliant Review!
"With the combination of ceremony, improvisation, and Shakespeare, Dzieci has created a fascinating, risky, and original work."

Mitchell Conway, nytheatre.com
Dzieci (djyeh-chee) is an international experimental theatre ensemble dedicated to a search for the "sacred" through the medium of theatre.
Integrating techniques garnered from such theatre masters as Jerzy Grotowski, Eugenio Barba and Peter Brook, ritual forms derived from Native American and Eastern spiritual disciplines, and an ethic based securely in Humanistic Psychology, Dzieci aims to create a theatre that is as equally engaged with personal transformation as it is with public presentation.
Towards this aim, the ensemble balances its work on performance with work of service, through creative and therapeutic interaction in hospitals and a variety of institutional settings. Dzieci believes helping others generates a profound healing effect that not only serves the patient but also strengthens the ensemble's work.
Dzieci is firmly dedicated to process. Our theatrical creations come organically over a long period of time, and a relationship with the world around us is essential. Therefore, public demonstrations of the work in progress are offered along the way, along with para-theatrical workshops, which invite participants to experience the work underlying our most current investigations.
note: "Dzieci" is the Polish word for "Children".