2022 is still in a pandemic, but the Century House will still be putting on some socially distanced outdoor events and even hold our benefit concerts again in the Widow Jane Mine. We're watching pandemic guidelines, but right now the audience limit is roughly at 250.

Many of these event pages have photos or other media that came from the show… so click though to see them!

This schedule will be changing and clarifying. Check back here for the definitive list!

You can get CHHS Calendar in iCalendar format from this link: https://centuryhouse.org/?calendar_feed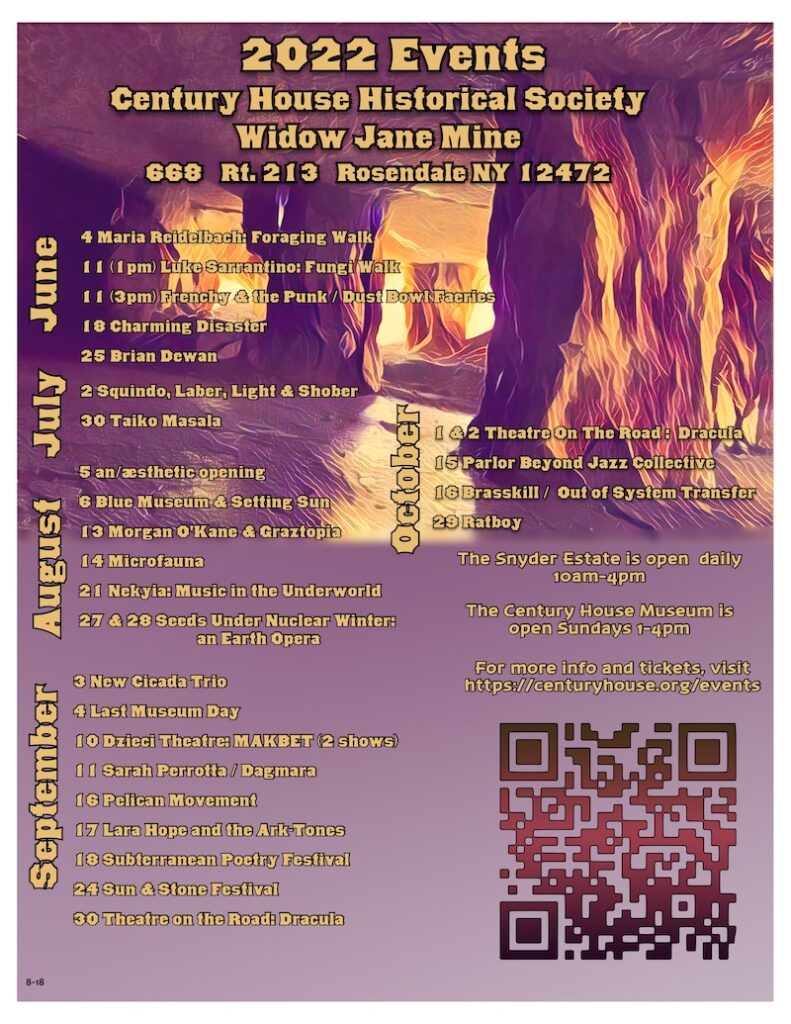 If you'd like to print out your own version of this poster, here's a PDF.
April
Sat, Apr 23 at 1:00pm
Native American Bird Stories [Library]:
Evan Prichard

Info + registration
May
Sun, May 8 at 1:00pm
Opening Day History Walk:
Bill Merchant and Henry Lowengard

Info
Thu, May 12 at 6:30pm
History of Rosendale Cement [Library]:
Gil Villahermosa

Info + registration
Sat, May 14 at 1:00pm
Spring Ephemeral Silhouettes [Library]:
Jenny Fowler

Info + registration
Sat, May 21 at 1:00pm
Instrument Building [Library]:
Fre Atlast

Info + registration
June
Sat, Jun 4 at 1:00pm
Foraging the Spring Bounty [Library]:
Maria Reidelbach

Info + registration
Sat, Jun 11 at 1:00pm
Fungi and Rosendale Ecology [Library]:
Luc Sarrrantino

Info + registration
Sat, Jun 11 at 3:00pm
Frenchy and the Punk with Dust Bowl Faeries (trio)
Folk/goth post-punk cabaret music
Info + tickets
Sat, Jun 18 at 3:00pm
Charming Disaster Returns to the Underworld:
Charming Disaster
Playfully macabre duets
Info + tickets
Sat, Jun 25 at 3:00pm
Brian Dewan
Real and imagined folk songs played on unusual instruments
Info + tickets
July
Sat, Jul 2 at 3:00pm
Squindo,Laber, Light & Shober
Warm and whimsical country/folk
Info + tickets
Mon July 11 – Fri, Jul 29 SITE CLOSED
Site Closed to Public
Sat, Jul 30 at 3:00pm
Taiko Masala
Traditional Japanese drumming
Info + tickets
Sun, Jul 31 at 12pm and 3pm
Geology of Rosendale [Library]:
With Alex Bartholomew
[only those with tickets from the cancelled walk in May]
Info + registration
August
Fri, Aug 5 at 4:00pm
an/aesthetic Opening Day
On-site sculpture show
Info
Sat, Aug 6 at 3:00pm
Blue Museum and Setting Sun
Alternative American Folk/pop with string section
Info + tickets
Sat, Aug 13 at 3:00pm
Morgan O'Kane and Graztopia
One Man Bands
Info + tickets
Sun, Aug 14 at 3:00pm
sounding landscapes:
Microfauna
music in dialog with the environment
Info + tickets
Wed, Aug 19 SITE CLOSED
Site Rental

Sun, Aug 21 at 3:00pm
Nekyia: Music in the Underworld:
Nekyia Ensemble
Odysseus visits the underworld
Info + tickets
Wed, Aug 24 SITE CLOSED
Earth Opera Rehearsal

Thu, Aug 25 SITE CLOSED
Earth Opera Rehearsal

Sat, Aug 27 at 3:00pm
Seeds Under Nuclear Winter: an Earth Opera Saturday
An immersive sonic and visual journey through spiritual visions and dreams.
Info + tickets
Sun, Aug 28 at 3:00pm
Seeds Under Nuclear Winter: an Earth Opera Sunday
An immersive sonic and visual journey through spiritual visions and dreams.
Info + tickets
September
Sat, Sep 3 at 3:00pm
New Cicada Trio
New classical songs
Info + tickets
Sat, Sep 10 at 3:00pm
MAKBET Afternoon:
Dzieci Theatre
Macbeth with an Eastern European theatrical bent (early show)
Info + tickets
Sat, Sep 10 at 6:30pm
MAKBET Evening:
Dzieci Theatre
Macbeth with an Eastern European theatrical bent (late show)
Info + tickets
Sun, Sep 11 at 3:00pm
9/11 Concert:
Sarah Perrotta and Friends / Dagmara / Natasha
Local Smart Indie pop
Info + tickets
Tue-Wed, Sept 13-14 SITE CLOSED
Site Rental

Fri, Sep 16 at 3:00pm
Pelican Movement
Multimedia pop
Info + tickets
Sat, Sep 17 at 3:00pm
Lara Hope and the Ark-Tones
Rockabilly rocks the mine
Info + tickets
Sun, Sep 18 at 3:00pm
Subterranean Poetry Fest:
Mid Hudson Poets
The poets converge yet again
Info + tickets
Thu, Sep 22 SITE CLOSED
Sun and Stone prep:
The Seed's
Prep for Techno Mine dance party
Fri, Sep 23 SITE CLOSED
Sun and Stone prep:
The Seed's
Prep for Techno Mine dance party
Sat, Sep 24 at 10:00am
Sun and Stone:
The Seed's
Techno Mine dance party
Info
Fri, Sep 30 at 7:00pm
Dracula Friday:
Theatre on the Road
The 1927 theatrical version
Info + tickets
October
Sat, Oct 1 at 3:00pm
Dracula Saturday:
Theatre on the Road
The 1927 theatrical version
Info + tickets
Sun, Oct 2 at 3:00pm
Dracula Sunday:
Theatre on the Road
The 1927 theatrical version
Info + tickets
Sat, Oct 15 at 3:00pm
Parlor Beyond Jazz Collective
Jazz in the mine!
Info + tickets
Sun, Oct 16 at 3:00pm
Brasskill and Out of System Transfer
Big brass band / Gonzo anti-folk punk rock radical leftist hootenanny
Info + tickets
November
Sat, Nov 20 at 10am-2pm
Fall Cleanup Day

December
Sat, Dec 3 at 3:00pm
Annual Meeting:
"Life After Cement" with H. Lowengard

Info
Category Key
Clean Up Day
Event
Festival
General
Pop-Up Event
Rental Event
Rosendale Library Event
SITE CLOSED
Virtual Event
Walk & Talk