SundayOctober 16 2022 3PM

Raucous local ensembles will blast the Mine with punkiness and brassiness!
Brasskill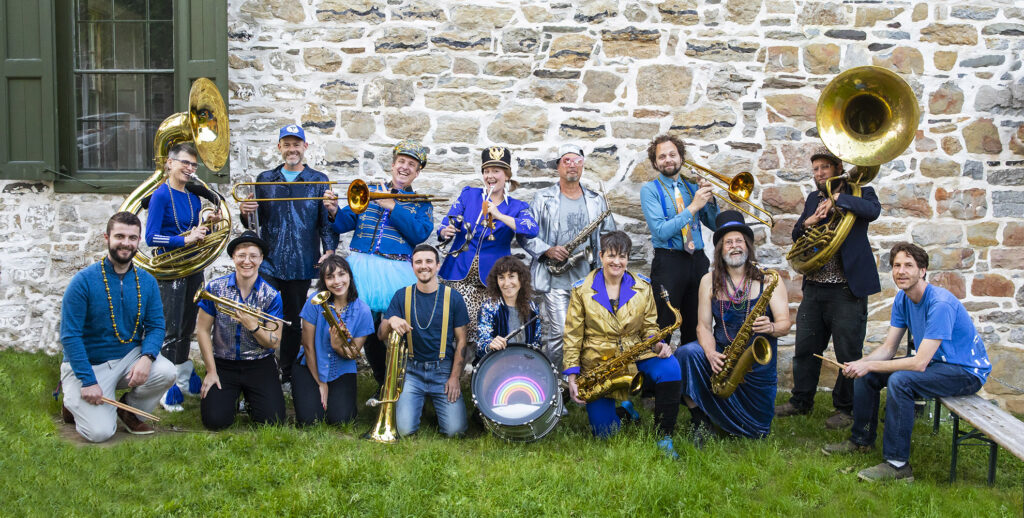 Brasskill is a lively 14-piece party brass band whose mission is to get your party out on dance floor. Bringing funky decibels to parties, festivals, parades and other merry gatherings in Hudson Valley and surrounding areas, Brasskill's high-energy live performances feature driving percussion section, shiny, melodic horns, innovative band choreography, LED lights, and the finest thrift store sparkly attire that one can find. The band's wide-ranging repertoire includes music from the New Orleans second line tradition, punk and pop covers, international grooves, as well as original compositions and arrangements.
Brasskill was co-founded in early 2018 by brass band veterans Francesca Hoffman (formerly of Brooklyn's Funkrust Brass Band and Rude Mechanical Orchestra) and Emily Herder (formerly of Somerville, Mass.'s Second Line Social Aid & Pleasure Society Brass Band). Brasskill's early roots stem from within the Tin Horn Uprising, a street activist band based in Kingston, NY, where our founders and original members, Adam Katzman, Lisa Stumph and Scott Langley, first met. The name Brasskill is tribute to history our region in which many towns and areas end in "kill" – Dutch word meaning "little stream" – since much of New York area was founded by Dutch, and thus given Dutch names.
Based in Hudson, NY and with members residing as far south as Rosendale, NY all the way up to Berkshires in Western MA, the band has opportunity to play wide variety of venues, festivals and events throughout the Hudson Valley and beyond. Notable past events include the annual Sinterklaas celebration in Rhinebeck, NY, Hudson Valley Brassroots Festival, Poughkeepsie's Celebration of Lights Festival, Supertone, the Oldtone Roots Music Festival, Chatham's Summerfest and OktoberFeast, Rhinebeck's Porchfest, and the Rosendale Street Festival.
Want to know more? Listen to interview with co-founder Francesca Hoffman on WGXC (90.7-FM), featuring two live recordings.
Out Of System Transfer
Carrying the banner of righteous weirdness, here comes Out of System Transfer, the city's much-needed gonzo anti-folk punk rock radical leftist hootenanny. Their funny and fierce tunes blend the rage of Reagan-era punks like Dead Kennedys and Mojo Nixon with the rootsy feel and harmonies of acts like the Carter Family and Pete Seeger. With unparalleled energy, uncompromising radical politics, and an insatiable thirst for fun, these anarchofolk weirdos share one primary objective: to rock your entire ass off.
outofsystemtransfer.bandcamp.com
Out of System Transfer on FB and insta
Jesse Sternberg – guitar, vox
Danielle Kolker – banjolele, vox
Jon Good – trombone, vox
Jesse Jacobsen – bass
Social Media Links:
Facebook.com/outofsystemtransfer